Clamp-Rail® bed lever grab rail for adjustable beds
The original universal grab rail bed lever solution suitable for all popular types of adjustable bed
*****  Dependable quality made in GB  *****

designed with you in mind
What is different about the Clamp-Rail® bed lever grab rail?
Clamp-Rail® is the most secure and most versatile grab rail bed lever for adjustable beds. It is a simple low-cost bed side grab handle solution which meets the mobility and independent living needs of adjustable bed users – without in any way affecting the moving parts of the adjustable bed mechanism.
Uniquely, Clamp Rail has been carefully and ergonomically 'soft-designed' to fit to the bed side without presenting any type of bruising square-block sharp-edges or floor-level tripping hazard for elderly or vulnerable users to walk into.
Clamp Rail's ultra-secure bolt-through method of fixing means it always remains anchored dependably in place at the bed side, however the user may be moving or wherever the user's weight is in relation to the rail.
The Clamp Rail grab rail bed lever can be fitted to any popular type and manufacturer brand of electric adjustable bed.
Clamp Rail's neat and compact shape has been specifically designed to overcome all the problems that prevent standard-type grab rails from being fitted to 'sit-you-up' profiling bed mechanisms. Direct fixing to the bed side means the rail is always within easy reach, and the unique maximum extended height of Clamp Rail – up to 23" / 59cm above the top of the profiling bed base – ensures it can be reached even when the back part of the bed mechanism is raised.
Unlike other grab rails based on 'clip-on' or 'over the bed side' attachment or which rely on parts being inserted loosely between mattress and bed base, with Clamp Rail there is no risk of 'rail wobble' or any feeling of 'rail looseness': it cannot become dislodged or knocked out of position and part company with the bed side as the rail is being held and used. Once Clamp Rail is fitted, it stays in place.
CLAMP RAIL:  Innovative.  Assistive.  Effective.
Patents pending; UKIPO, EUIPO & WIPO Registered Design Rights pending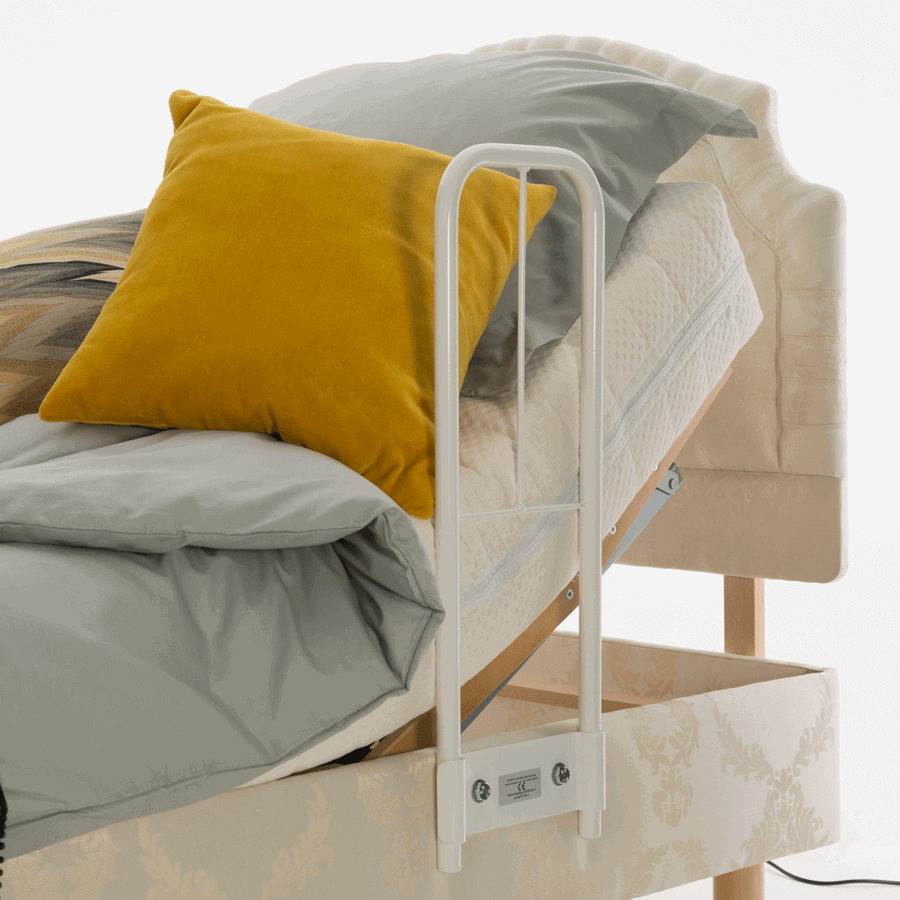 Clamp Rail is the only truly universal bed lever grab rail which has been purposely-designed to fit all common types of adjustable bed. Fixing only to the outer frame of a bed base it does not interfere with or impede any moving parts of the profiling bed mechanism.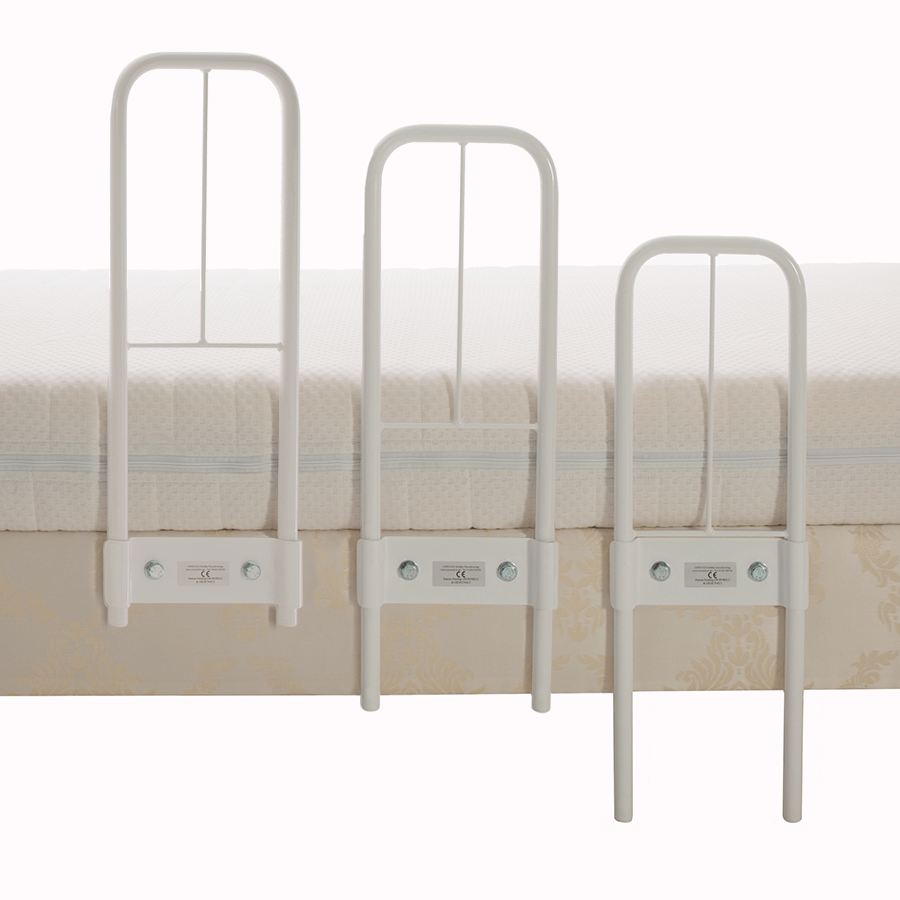 Extended height means the Clamp Rail bed lever is always within reach when fitted at its highest setting – including when user is sitting up in bed. It is also uniquely versatile as height of the rail can be set differently according to precise user requirements.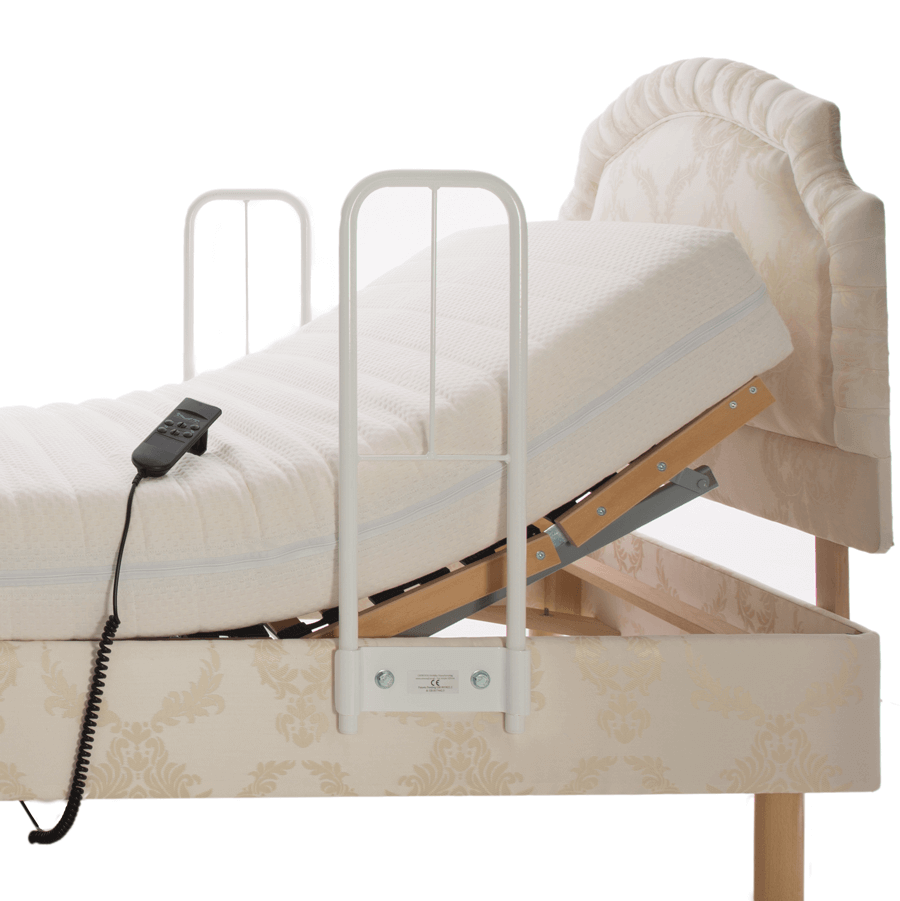 Clamp Rail is a side grab rail solution which is fully compatible with all standard types of adjustable beds – including height-adjustable profiling beds where the high-low bed base remains at floor level or where the whole high-low bed base itself goes up and down.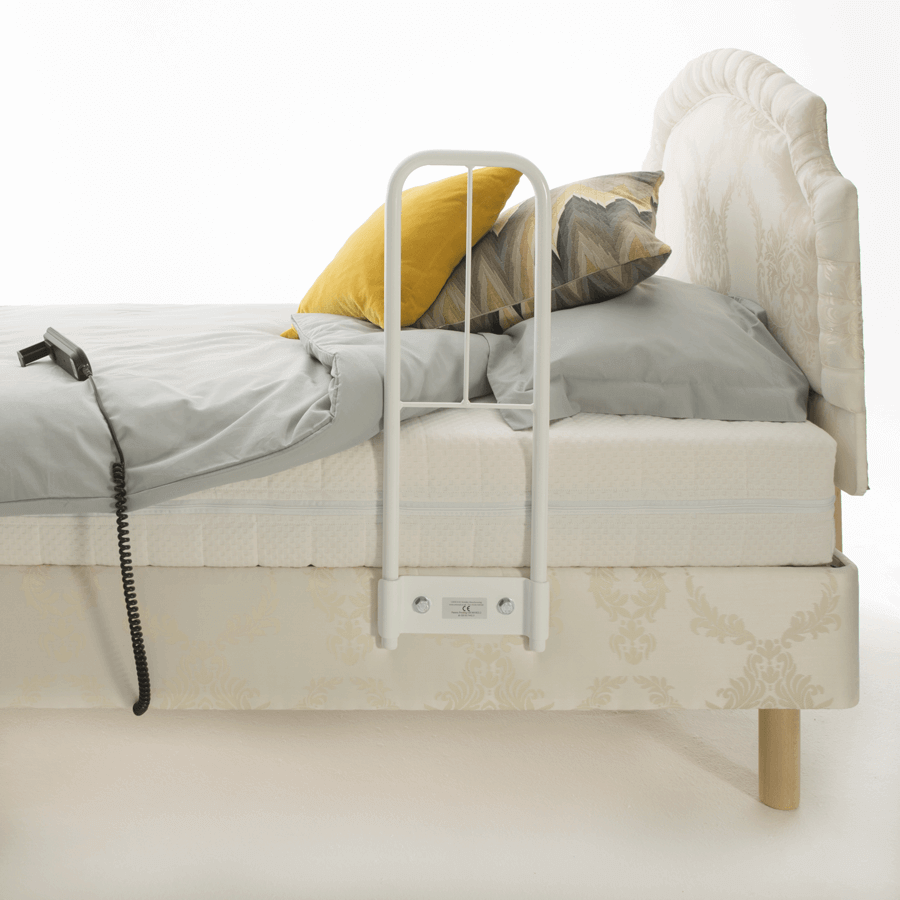 The Clamp Rail bed lever shaped metal rail and clamp-plate assembly are carefully designed to be close-fitting and ultra-slim, adding only minimal extra width to the bed base, so the bed is easier to fit in between bed side cabinets and other fitted bedroom furniture.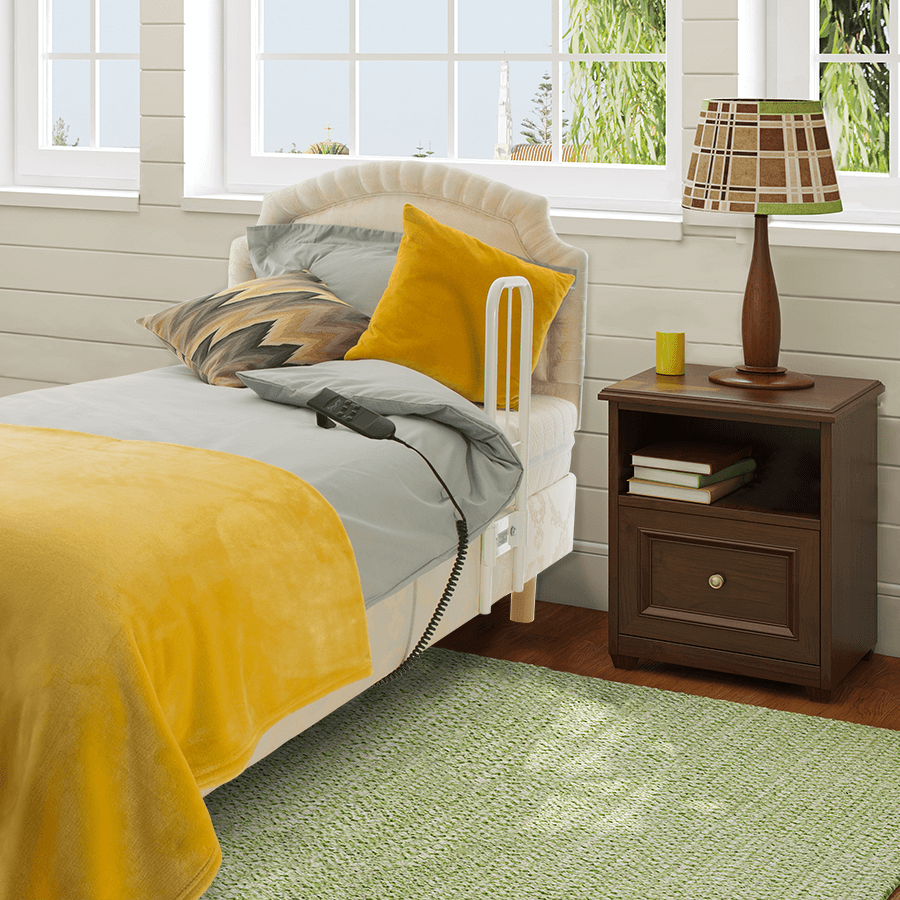 The neat, compact rail fixes directly to the bed side, minimising clutter and obstacles around the bed – no floor attachments means that the Clamp Rail bed lever side grab rail solution presents absolutely no low-level tripping hazard for bed users.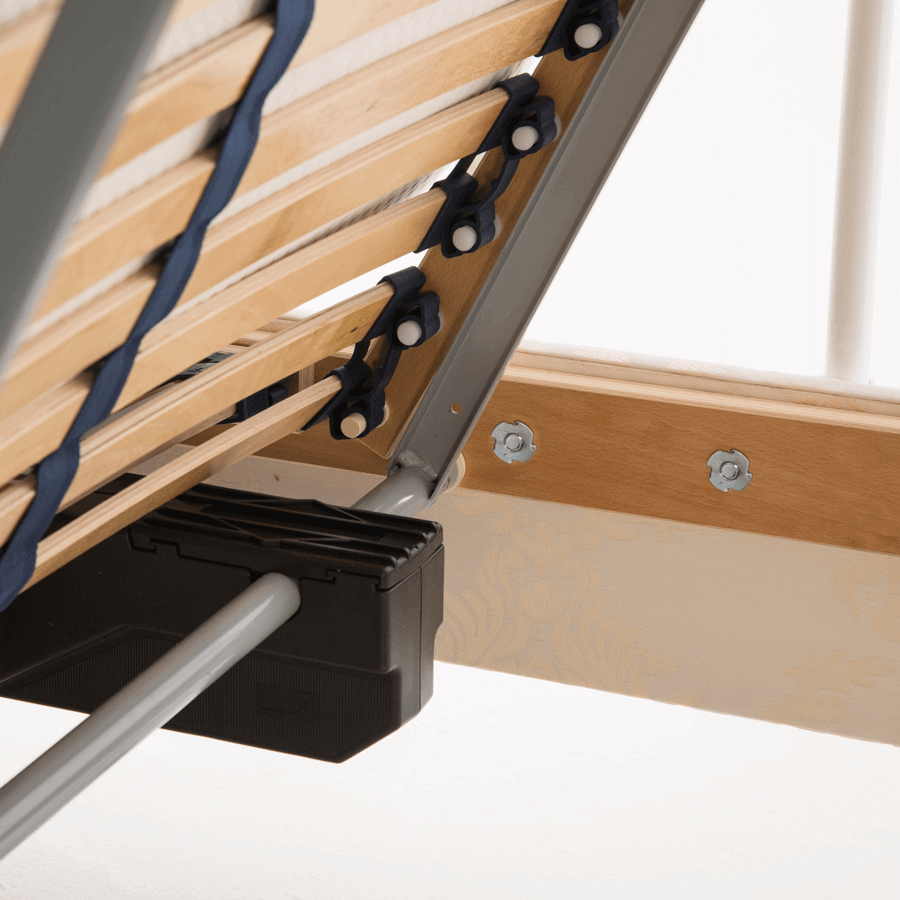 The traditional 'nut and bolt' principle is quite simply the most reliable method possible for securely attaching a rail to the side of an adjustable bed. Clamp Rail offers exactly what the user needs: dependable solid-fixing security and complete confidence at the bed side.
Experience combined with craftsmanship and attention to detail.
WOODS are specialist manufacturers of all types and styles of adjustable beds designed for the private home environment, offering the widest variety of standard dimension and high-low specifications currently available in the UK.
Our staff have extensive experience, gained over 20 years of specialist trading and professional assessment of mobility & independent living needs. We work closely with users and healthcare professionals alike to create and supply bed solutions which are manufactured and upholstered both to standardised and full custom-build specifications. All of our work is finished to highest industry standards.
Through the course of our bed manufacture we have directly assessed and observed bed users with all types of independent living challenges. This activity led us to develop Clamp-Rail® – a special and simple type of side grab rail / bed lever which has been designed precisely to satisfy the particular mobility needs of adjustable bed users whilst at the same time taking into account the particular characteristics of moving parts in a profiling bed mechanism. Clamp-Rail® is made and finished to excellent quality standards.
ORWOOD MOBILITY MANUFACTURING LTD 
Registered in England & Wales Co No: 12308093
Registered office: 56 Coneygrey Spinney, Flintham, Nottinghamshire NG23 5LN
Manufacturer registered with: