Universal grab rail bed lever for adjustable beds. Dependable quality made in GB.
Clamp-Rail is a side grab rail bed lever solution for adjustable beds that has been carefully designed to overcome the problems experienced when trying to fit standard grab rails to adjustable beds.
The simple, neat and compact device fixes securely to the adjustable bedside, putting the rail within easy reach but without affecting the moving bed mechanism.
Single £135 or pair £245 ex-VAT (supply is VAT-free for qualifying individuals, applied during checkout)
This universal side grab rail bed lever has been designed and developed by ourselves specifically to be suitable for fitting to all popular wood-based frame surround types of adjustable bed and is manufactured exclusively by ORWOODS. It is also suitable for potentially fitting to all box-frame types of bed whether adjustable or static.
The Clamp-Rail bed lever fits neatly and closely to the side of the bed by means of a clamp-holding plate and two strong bolt-fixings for secure anchoring. Crucially for adjustable beds with a moving profiling mechanism, this means it does not rely on any part being inserted between mattress and bed base to interfere with the bed movement, which is invariably the problem with almost all other variants of this type of rail.
It has an extended maximum height so it is reachable even when the back-rest of a profiling bed is raised - standard fitting results in approximate height to top rail of 22.5" / 570mm above top of bed base excluding mattress, and height is adjustable up and down in relation to the clamp-fixing plate which holds the rail to the bed side. Clamp-Rail® bed lever / side grab rail is supplied with full fitting instructions and fixing kit including bolts and special nuts.
If you are interested in this product then we recommend that you open and read the download PDFs 'Clamp-Rail® grab rail information leaflet' and 'Clamp-Rail® bed lever / side grab rail assembly instructions' available immediately below. These will provide comprehensive information, including full size / dimension information, and a number of helpful photographs - in short, all the information you will require to make the right decision on fitting an ORWOODS bed lever / side grab rail. (ORWOODS Patents & International Design Rights pending).
Clamp-Rails® are manufactured to order and usually despatched within 10-14 days.
Download the Clamp-Rail® Leaflet here.
Download the Fitting Instructions here.
Additional information
Weight
4 kg
Dimensions
23.5 × 4 × 69 cm
Kit includes

Grab rail, Metal fixing plate, 10mm x 50mm threaded Bolts & T nuts, and dual purpose pre-drilled 20mm thick strong ply template / strengthening backing plate (see Fitting Instructions PDF)

Template provided

A 20mm plywood template is provided with pre-drilled 12mm holes aligned to the holes in the metal fixing plate. Clamp the template to the bed frame to use the template guide holes. This also prevents surface fabric upholstery from being caught or torn by the drill.

For bed frames with no laminated ply outer rail where the upholstered bed base is either MDF or chipboard, the template provided in the fixing kit should be used as a backing plate strengthener.
Delivery
Prices quoted include delivery to your specified customer address.
We use our best endeavours to deliver your order as promptly as possible and generally work on a 7-working day turnaround for despatch from the date we receive your order; items are however manufactured to order as required so 28 days should be allowed for delivery.
ORWOODS reserve the right not to supply should items become unavailable for any reason, in which case full refund will be made to you of all sums paid.
Returns & Refunds
Returns
All product returns to be sent to:
ORWOOD MOBILITY MANUFACTURING
Unit 1 Queen's Mill
Mill Street East
Dewsbury
West Yorkshire
WF12 9AQ
GB
Tel: +44(0)1924 455468
Note: ORWOODS do not arrange collection of returns – this is the responsibility of the person seeking to return items.
Refunds
If you cancel the contract before products have been dispatched by us, then you will be refunded the whole contract sum paid for goods including delivery costs. If you cancel the contract at any time after products have been dispatched then you will be refunded the whole contract sum paid for goods excluding delivery costs. If cancellation takes place before goods have been dispatched to you, refund will be made within 14 working days. If at the time of cancellation goods have already been sent out to you, or are already in your possession, you must return the goods before the expiry of 14 days after you have communicated your cancellation of the contract, and refund will be made within 14 working days after you have returned such goods to ORWOODS. In order for a refund to be made, you must return the unwanted goods in complete undamaged and unblemished, saleable condition; you are to meet all costs of returning the goods, and all risks relating to the goods while in your possession and during return transit are borne by you until they are delivered back to ORWOODS. If you are situated outside the UK, refund payments will be limited to the GBP Sterling value ORWOODS in fact received from you net of any cost of currency exchange or other fee imposed or levied by banking processes etc due to the international nature of the transaction, and net of any such similar costs which arise and are incurred in the refund process, whether imposed by our bank or by your own bank – such costs similarly being met by you (if applicable, these are likely to be deducted during refund banking process before you receive any final refund sum).
Read our full T&Cs here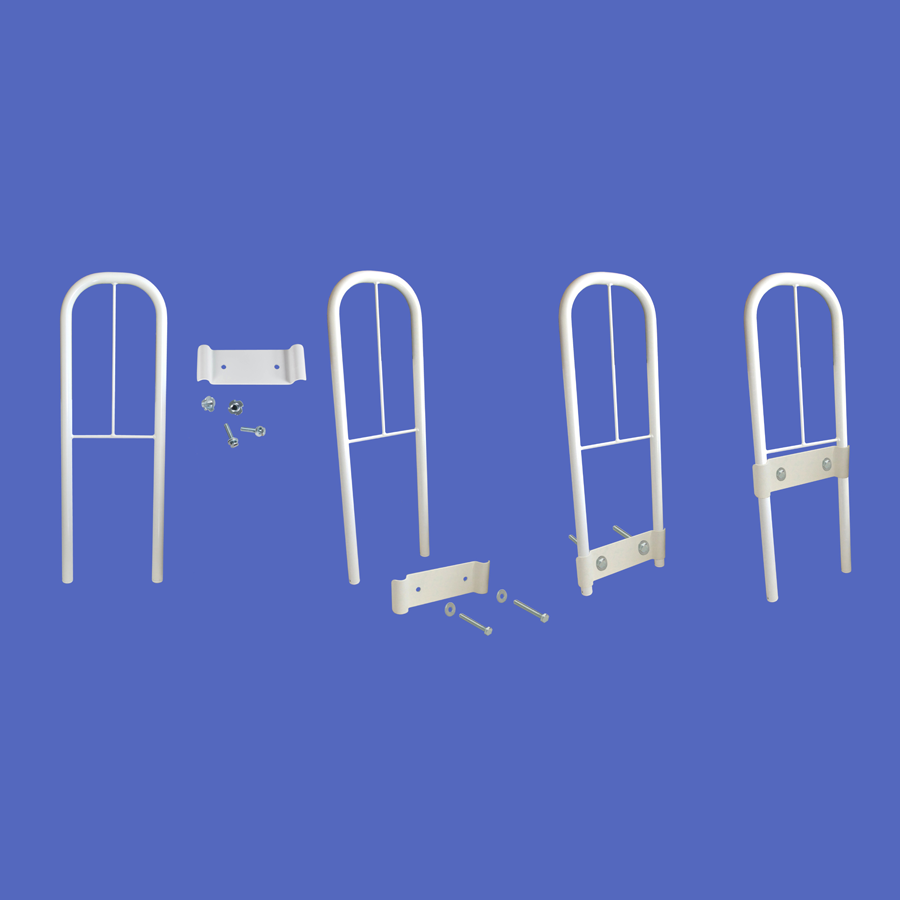 ​The kit includes the Clamp-Rail, shaped metal clamp-plate, 10mm x 50mm threaded bolts & T-nut fixings and dual purpose pre-drilled 20mm thick strong ply template / strengthening backing plate.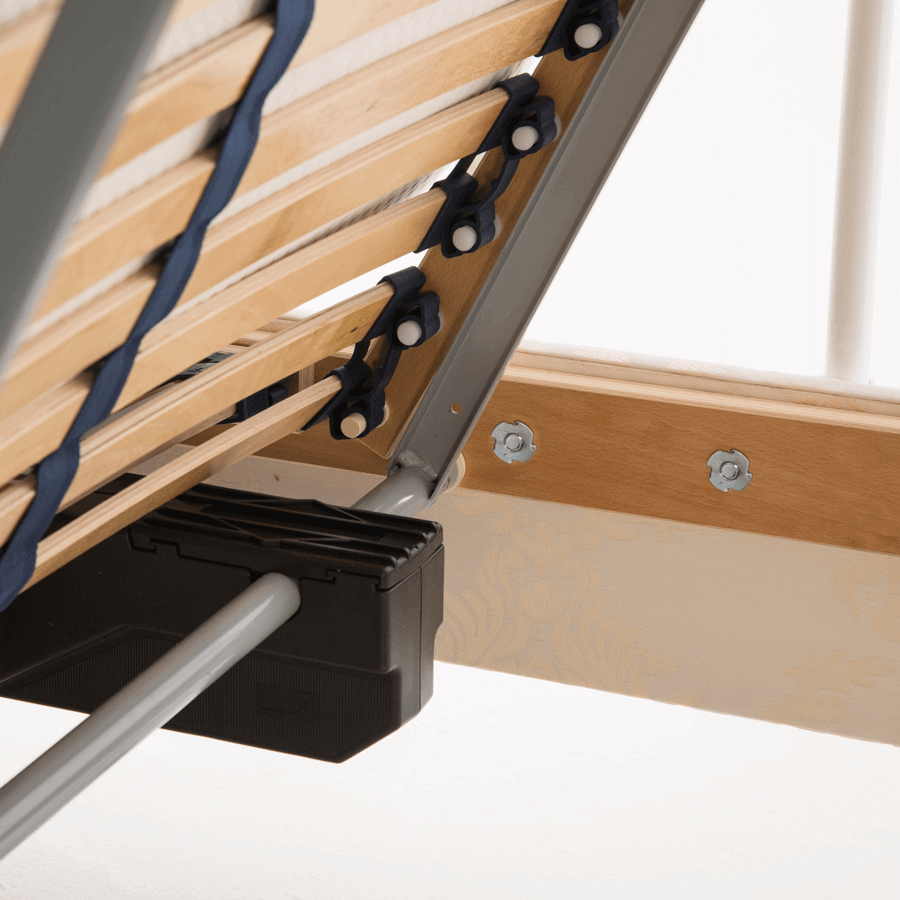 The Clamp-Rail is bolted neatly through the side of the bed frame. The strengthening backing plate can be used on bed frames made from MDF and chip-based beds to improve the strength of fixing.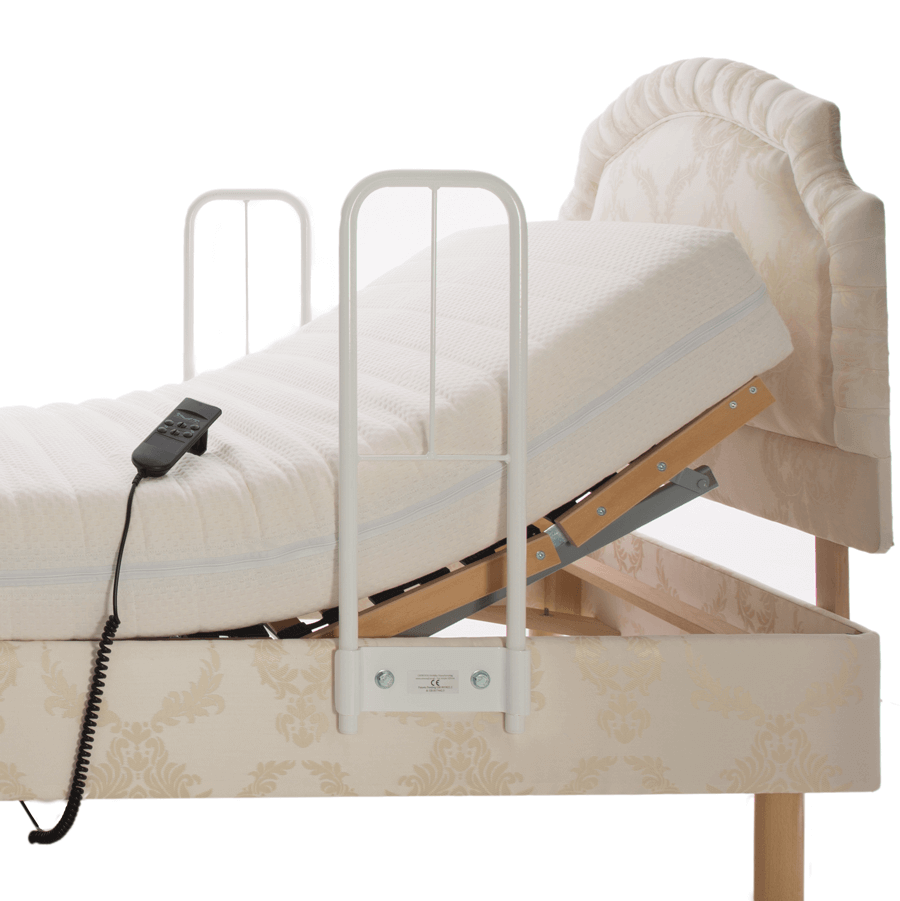 A Clamp-Rail can be fitted to both sides of a bed for greater ease of movement.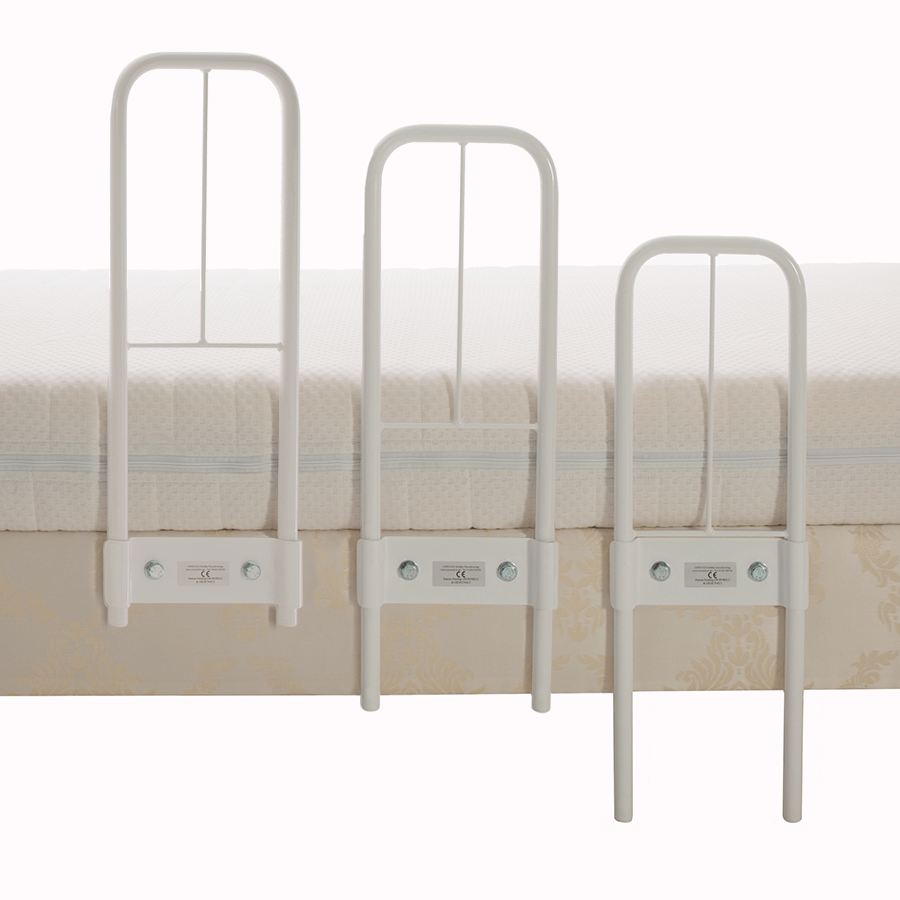 The Clamp-Rail can be adjusted to any suitable height as the user requires, the metal plate simply clamps the rail securely in place when the correct height has been selected.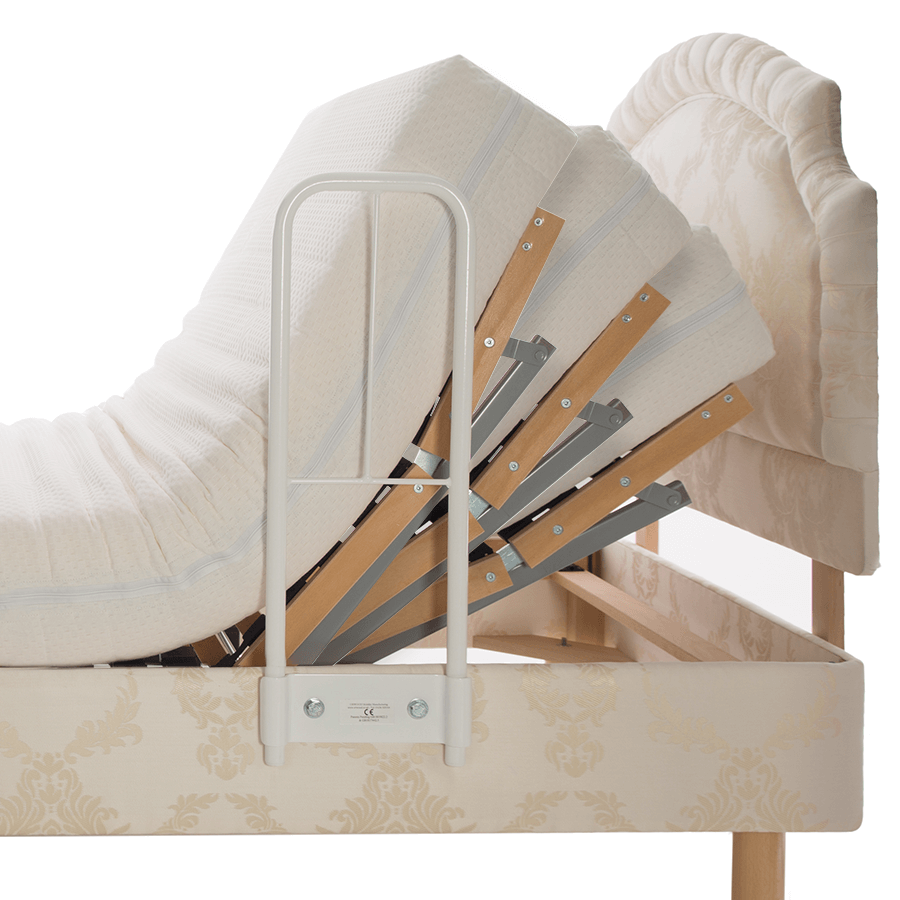 The bolt & 'T' nut fittings allow adjustable beds to move freely and do not interfere with the operating mechanism on adjustable beds or low/high beds. Ultra-slim fitting. No tripping hazards or obstacles for the user at the bedside.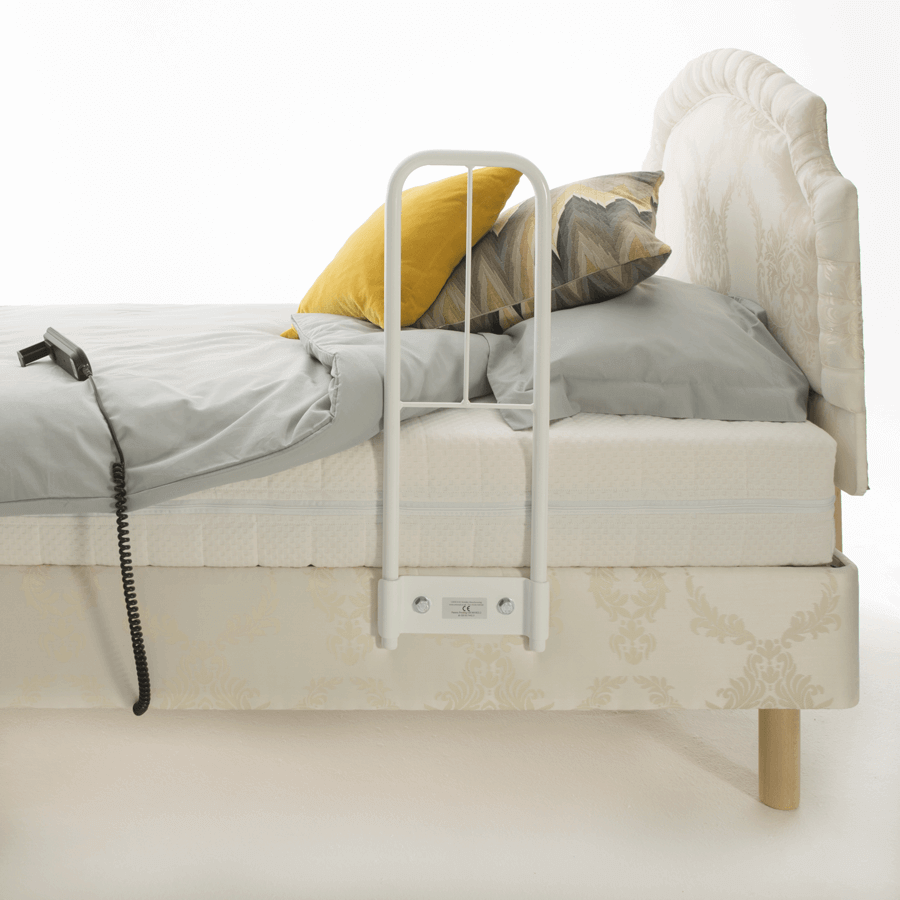 Clamp-Rail is bolted securely to the bed frame, so is solidly anchored at all times. It does not rely on the user's weight to hold it in place, so there is never any feeling of 'looseness' in the rail. For this reason the rail also provides reliable stability for the user when standing and moving around the bedroom.